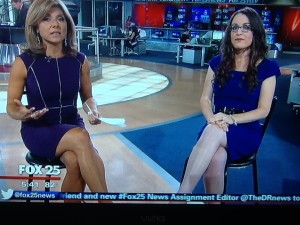 Can obesity in adulthood be linked to parenting? A much talked about video displays the connection between parenting patterns of one's children into whom they become as adults, with specific focus on non healthy eating.
During my interview on FOX News Boston, anchor Maria Stephanos and I discussed this video where I shared my insights on the topic.
---
Follow Dr. Karen on Twitter or Facebook. Media Psychotherapist Guest Expert; Relationships, Parenting, Human Behavior, Analyzes Hot Topics In The News. Has appeared on FOX News Channel's: The O'Reilly Factor, Your World With Neil Cavuto, Hannity, America's Newsroom, America's News HQ, FOX & Friends, FOX & Friends FIRST, America Live, and FOX Business Network's: Neil Cavuto, and The Willis Report. The go–to expert for FOX News Boston including the regular segment; Ask Dr. Karen. Also appeared on ABC's Good Morning America, Lifetime, Discovery Network's Destination America, The Steve Harvey TV Show, and more. Sought after Radio Guest Expert. Columnist. Often quoted in various print media: Wall Street Journal, FOX Business, FOX News Magazine, Boston Magazine, Boston Globe, Boston Herald, Good Housekeeping, Yahoo Shine, Parents, Parenting, CNN, TIME, Woman's Day, Women's Health, Men's Health, USA Today, Care.com, and more. Owner/Founder/President: Dr. Karen Ruskin & Associates, Inc. Based in Massachusetts. Author of: 9 Key Techniques For Raising Respectful Children and Dr. Karen's Marriage Manual. Copyright 2012.
Powered by WPeMatico