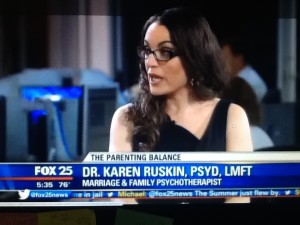 At what age is it OK to leave your children unsupervised? With varied stories of children being left unsupervised getting marked attention in the news as of late, FOX Evening News Boston called upon my expertise as a Family Therapist/Psychotherapist to offer insight. Anchor Sorboni Banerjee interviewed me for this segment.
Some will agree with my perspective, others will disagree, here's the link if you are interested in my point of view based on my expertise in my work with kids and parents: At what age is it OK to leave your children unsupervised?
---
Follow Dr. Karen on Twitter or Facebook. Media Psychotherapist Guest Expert; Relationships, Parenting, Human Behavior, Analyzes Hot Topics In The News. Has appeared on FOX News Channel's: The O'Reilly Factor, Your World With Neil Cavuto, Hannity, America's Newsroom, America's News HQ, FOX & Friends, FOX & Friends FIRST, America Live, and FOX Business Network's: Neil Cavuto, and The Willis Report. The go–to expert for FOX News Boston including the regular segment; Ask Dr. Karen. Also appeared on ABC's Good Morning America, Lifetime, Discovery Network's Destination America, The Steve Harvey TV Show, and more. Sought after Radio Guest Expert. Columnist. Often quoted in various print media: Wall Street Journal, FOX Business, FOX News Magazine, Boston Magazine, Boston Globe, Boston Herald, Good Housekeeping, Yahoo Shine, Parents, Parenting, CNN, TIME, Woman's Day, Women's Health, Men's Health, USA Today, Care.com, and more. Owner/Founder/President: Dr. Karen Ruskin & Associates, Inc. Based in Massachusetts. Author of: 9 Key Techniques For Raising Respectful Children and Dr. Karen's Marriage Manual. Copyright 2012.
Powered by WPeMatico